Chapter 1/SPRING HILLS
Being in a new school scares me. "Spring Hills Senior High"
thats the name. Having parents like mine, a mother who's
a lawyer and a dad who's a doctor. Yeah, I get alot of benifits.
One question sticks with me,why did we have to move?
Spring Hills High.
"Hello class we have a new student, Sparkle Johnson",slightly introducing
me. No disrespect but I didnt ask her to introduce me, who does she think sheis?
Mrs. Doodle, what kind of name was that?
"Say whats good lil mama?", said some guy
He was cute I had to admit,nice black cut hair,big lips, tall, and he had
the most nicest skin complexion. "Hhheeey", I hesitated. Here I was, my first
day at Spring Hills talking to what looks like the most finest boy in school so far
that I've seen. "So you new right? What school you came from?"
"Cantageville, it's a private school. I hated it there."
"Cool, I dont usually do this but since you new, you wanna have lunch with me?"
"Sure,Okay"
LUNCH.
"By the way my name is Jamal, Sparkle right?"
"yeah"
As we walked through the cafeteria I just knew all eyes were on me.
At my old school boys would always look at my ass. I asumed that had to
explain all the attention. I had on some grey destroyed skinny jeans,that had about three or four cuts on my thighs,
Also an all white v-neck hugged my small hips, covered with a black and grey hollister brand
beech fleece and stepping on all white low top forcesWhat can I say I'm rich.
"Why is everyone staring?"
"YOur the new kid remember"
We walked over to a white rectangular table with about ten other
students. I'm guessing they're his friends.
"Hey Jamal",giggles a little,"who's your little friend?"
This bitch had the nerve to laugh in my face.
Let me keep my cool before I have to cut a bitch. Let me find out if they have a track team.
Because if fighting her will provent me from doing what I love then Ima chill.
Track was who I was, who I wanted to be for the rest of my life. With so much on my mind
I thought about my TWIN Miracle, how was her first day of this shitty school going?
GYM.
"Hey you're that new girl from my first period right?"
"uhhh..no"
Damn, I have to stop dressing like Sparkle. These kids are
going to think I'm crazy. I'm enjoying the school besides the fact guys
keep staring. I wonder if my sis is going through the same. This school better
have a track team, or my daddy is going to regret sending us here. The bell rang,so
I grabbed my belongings and took off to the hallway. In my sight was big, small,
short and tall, but no twin. Well thats a first. I miss my sister(tear) lol. To tell the truth all I
had to do was go into the school bathroom and look into the mirror. Everything about my sister and
I were just about the same. We both run track,our personalities are just about the same too.
I was kinda a little shy but dont let my face fool you and Sparkle is more outgoing.
Although, at times we'd have disagreements about something,we'd find a way to work it out.
I'm the oldest by one minute and two seconds.
How weird.
Last period. Fourth period.
I'm really hoping Sparkle has my class. If we just had one, just one class I will
be satisfied. Fourth period I had Geometry. My weakest subject.
"Hello I'm Mr.Dwelling,your name is?"
"Miracle....Miracle Johnson"
"WHat a pretty name,hello and goodmorning clas we have a new student"
No, I cant believe he just put me on the spot, I really hate being the center of attention.
As I told you before kinda SHY.
"Wow a new student?" some girl said sarcastically.
One thing I really cant stand is a female trying to show out.
"Yeah little girl a new student, dont try to show out infront of your friends. You must
dont know how dumb you sound",I snapped while walking to my seat in the back row
of the class.
"ooo, Ciara she told you!",eclaimed an Omarion look alike.
I had to laugh at my self this guylooked like him litterally!
The class period went by so fast that I jumped when the bell rang. I
reached in my purse and turned on my cell
phone to call Sparkle.
Earlier this morning at home she agreed to meet me after school
to see about the track team.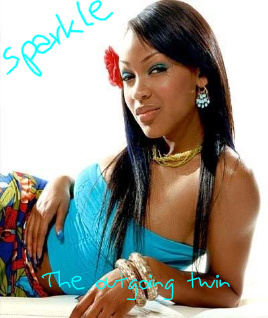 "Hello?"
"Where you at?"
"I'm standing outside in the student parking lot Miracle"
"Okay"
Student Parking lot.
"Sparkle you ready"
"Yeah I guess"
Miracle and I walked to the track where a few kids were practicing.
Damn, I saw that girl that was laughing supposly at me in the cafeteria, I got
my twin with me now, I should kick her ass. Jamal was there too, with his fine ass.
Before I knew it Jamal walked over.
"Hey Sparkle......say you got a twin?!!"
"Yeah, is that a problem for you?"
"No not at all"
"So which one of your friends sent you over here? Let me guess Ciara?"
"How you know her?",Miracle interupted. "At lunch she had the nerve to laugh at me!",I exclaimed.
"I Can't stand her!",we shouted at the same time.
"Well no one sent me",he said.
As we laughed it off, the track caoach came over. He had a big goofy look on his face.
"Hey, your the Johnson twins right?"
"Yes, how did you know",I questioned.
"Well your dad came and told me you two were great track stars"
"We love track! Thats what we really came to ask you. Cam we be a part of your team?"
"Thank you so much!",I said proudly.
"Yes thank you", Miracle repeated.
We began to walk away. I told Jamal I would see him Monday. I was
ready to began the weekend.
"We did it Miracke! We should celebrate"
"NOT"
Miracle and I walked back to the student parking lot to get to our car.
For the moment we shared a nissan coupe. Our mom and dad promised two land rovers
for our Sweet 16 next month.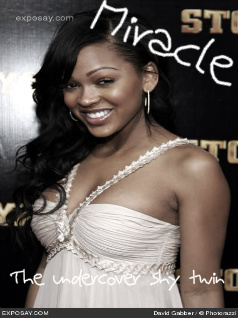 On the way home, Sparkle drove. After about turning six corners and hitting
the freeway to the most biggest houses you've ever seen. RoseMary Falls was
the place to live. I like it alot better than where we used to live. We zoomed into the driveway
which led to three garages.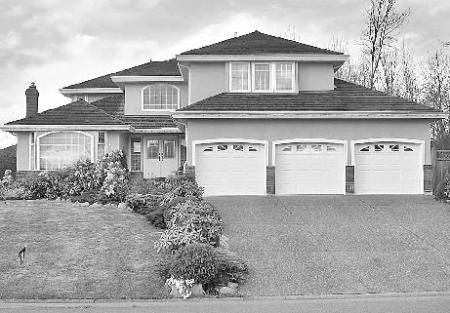 One garage for our car, one for my dads mercedes benz, and the last for my mom's
lexus. We all pushed silver cars with leather seats. I'm blessed that we're able to have
something like this.
As we got our black and grey coach bags out of the car. I searched for my keys to
the house and opened the huge brown double doors infront of me. Sparkle went upstairs, as I
dropped my purse on the counter and went into our big kitchen that was as big as two bedrooms put together. I went into the 2
way door fridge and grabbed some sunny D. My favorite drink! As I turned it up to drink my phone rang.
I pulled out my phone out of my back pocket and pressed answer.
"Hello?"
"Hey baby, you at home yet?", he questioned
"Just got in. Whats on your agenda for the rest of the day?"
"Well I go to work at five and get off at eleven. It's three thirty,I can
put you on my agenda",he teased.
"Sure I would appreciate it", I giggled a little bit.
"Okay, I'm on my way. I'm glad you live closer to me now."
"Me too but I miss my friends.",my lips began to pout.
"You got me"
"Shut up Marcus!"
"Im outside let me in"
I walked over towards the doors and opened them. Marcus pulled up in his 2010 Taurus
I love riding in that car. I met Marcus at the mall in Footaction last year by where I used
to live. We've been together for about a year and 2 months. He was older though he just
turned 17 and works at Footaction closer to where we live now.
"Hey baby",he smiled.
I gave him a hug and a kiss on the lips.
"So how come you didnt transfer to my school yet?"
"Well I havnt talked to my mama about it yet lil mama"
He then tickled me and I bust out laughing, causing Sparkle to come
down stairs.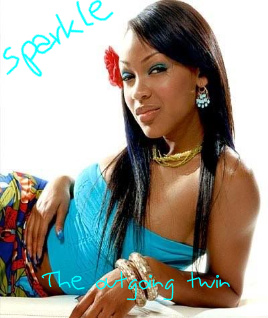 I came back downstairs to find Miracle and Marcus being
retarded. "Yall need a life", I laughed
"Oh be quiet Spark we were just playing",she claimed.
I didnt want to watch them cup cake all day until my parents got home
so I ran upstairs leading to the second level of our house. I opened the door to my
room. My room was huge.
I walked over to my laptop that was lying
there on my bed. As I sat on the bed, my phone that looks excactly like Miracles began to ring.
"Running my mam crazy",by plies played.
"Hey mom"
"hi sweetie, I'm working late tonight, I'm working on this murder case",she explained.
"Okay, mom is it okay if I go to the mall.?"
"Sure just make sure you check on your sister."
"YEs mam, I love you"
"Love you too"
I hung up the phone and ran into my walk in closet to find something to wear.
Moving was hard for me I just needed some time to myself. I scrambled through
all my clothes and finally I found something I wanted to wear. In my hand i had an all dark pink
hollister collar shirtand these jordans
I took aloose my pony tail and let my hair hang. I grabbed a pink coach purse
as I walked out of my room door.
Downstairs.
"Where you going?",Miracle asked me.
"To the mall I just need some time to myself, you know?"
"Oh...Okay",she mumbled sadly.
"Miracle it's not you girl!",I laughed,"It's just this moving thing",I explained.
"It's cool, just call me when you get there okay?"
"Got ya! I love you sis",hugging her.
"Yea Yea get out of here",she said playfully.
Leaving out the door, I left Miracle with her boyfriend. I jumped in our nissan altima
coupe and took off.
Rosemary Falls Mall.
When I walked into the mall I found the directory. This was my first time being here. On the directory
I spotted a Starbucks, my favorite drink was a strawberry mochalate with whip cream.
My mom didnt let us drink coffee.
Starbucks.
I ordered my drink and sat at the lounge table. I dont know
what made me look up but when I did....Jamal walked in. Damn can
I get away from this dude! ughh.
"Hey Sparkle. What you doing here?"
"Uhh...drinking what else?"
"You aint have to get all smart",he snapped.
"I heard about you Jamal, I hear people talking about you. Girls mostly.
You fuck them and leave, well I'm not your next victim."
I jumped up and grabbed my purse, and stomped towards the door.
He had the nerve to grab my damn arm.
"Let me go Jamal",pulling back.
"Sparkle I'm not like that at all baby"
Baby? who the hell was he calling baby? I know damn well it wasnt me.
"I'm not your baby Jamal", I corrected him.
"Sparkle just let me show you the real me........please",pouting.
"Fine I dont care"
Jamal walked around the mall with me, and we just talked about
what we liked to do. I had a hard time trying to understand why
his daddy use to beat him.
"Yeah, just by looking at me,you wouldve never guessed that I had a life
like that",he went on.
I felt bad for acussing him of being a bad person. Even if he was he had a reason
to. Jamal and I walked around talking until four thirty. We went into Hollister so I
could get some clothes.
"You must really like this store huh?",he asked.
"Yes, its pretty cool. I've been shopping here since like forever.",I laughed.
"Sparkle if I asked you to just hang with me will that be askin' too much?"
Hell yeah. I playfully said to myself.
"Naw, its cool. So whats going on, between you and Ciara?"
"She's my ex-girlfriend"
"Oh, really? What did you see in her ugly ass?", I asked.
"Look,I'm not worried about her Sparkle"
"Yeah, Whatever"
After that rude discussion I grabbed a size medium navy
picnic Beach dress for $49.50, a Redondo Pink check plaid shirt, and
etc.
"Thats alot"
"I know I love to shop. Is that a problem?"
"No not really. Say are you mixed?"
"Yeah Latino and black."
Yeah, how weird.My mom is black and my dad is mixed
with black and Latino. Damn I'm just mixed. After Jamal and I left
Hollister i decided to go home since it was 5. My day with him was over.
I didnt want it to so...........number exchange!
Saturday evening.
"Hello?"
"Hey Sparkle girl!"
"Hey whats up Monica"
"Getting ready for this party wannna come?"
"No,sorry I have plans with Miracle today"
"Man...okay maybe another time."
I really wanted to go to that party but Miracle and I promised our dad
that we were gonna go to the track and practice running. My dad was strict
about his girls making it to the top. We never really had time for our friends
during track season, I knew that mad Miracle mad. But for the time bein we needed to
make my dad happy.
END OF CHAPTER ONE


Last edited by SurreallPrincess100 on Mon Jun 14, 2010 8:50 am; edited 4 times in total